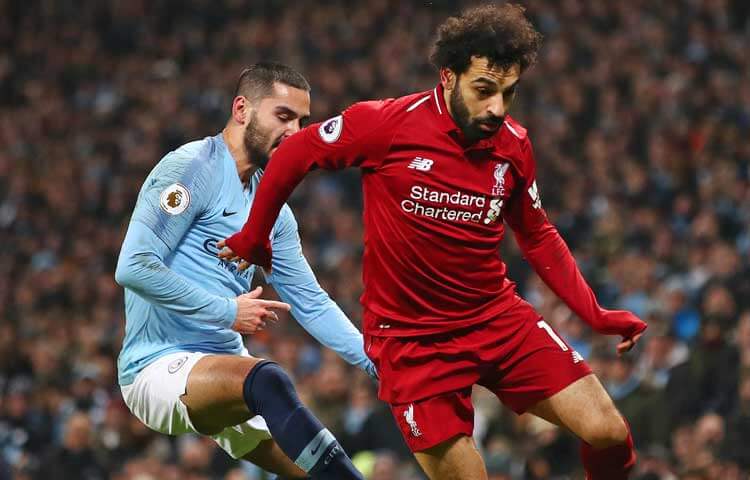 Liverpool are overwhelming -334 favorites Saturday as they face off against a Brighton squad (+1,000) that has gone unbeaten in its last three EPL matches.
Photo By – Getty Images
The bad news for Liverpool is that they're dealing with their first losing streak of the 2018-19 soccer calendar. But the good news is that the table leaders can extend their advantage in Saturday's encounter with host Brighton Hove Albion. Whether you're a seasoned soccer bettor or taking your first kick at the footy odds, our in-depth previews and betting predictions will help give you a leg up on the competition.
Ready for a Rebound
Liverpool dropped a 2-1 decision to Manchester City to end their 20-game domestic unbeaten streak, then were upended 2-1 by Wolverhampton in FA Cup action earlier this week. But they're overwhelming -334 favorites Saturday as they face off against a Brighton squad (+1,000) that has gone unbeaten in its last three EPL matches. Liverpool still lead Man City by four points atop the table.
Spurs Seeking Second Spot
With Man City not in action until Monday, Tottenham can enjoy at least temporary possession of second place in the EPL standings with a victory Sunday against visiting Manchester United. Spurs have been sensational since falling 3-1 to Wolves in their final game of 2018, reeling off victories over Cardiff, Tranmere and Chelsea by a combined 11-0 count in three separate competitions. They're installed at +110 Sunday against Man United (+260), who have won four consecutive league games to move into sixth spot in the table. But Tottenham have won their last three home matches vs. Man United, outscoring them 7-1 over that stretch.
Can Atletico Keep Pace?
With a five-point gap between themselves and first-place Barcelona, Atletico Madrid can ill afford to give away any more points heading into Sunday's home encounter with Levante. Atletico fell further behind the pace with a 1-1 draw at Sevilla last time out, and the one-time La Liga leaders are now +800 underdogs to unseat the defending champions. But Atletico are in good shape to at least keep pace this week; they've gone unbeaten in their past 15 domestic games and are installed at -400 to prevail against a Levante team (+1,100) that has earned just two points from its past four league matches.
A Real Test
Real Madrid have dropped back to fifth in the Spanish League standings, and will need a victory or draw Sunday against host Real Betis to avoid falling any further. These teams have matched results over their previous six games – three victories, two defeats and a draw apiece – to remain just one point apart in the battle for the No. 5 spot. But the visitors are slight favorites at +110 as they look to build on a 3-0 victory over Leganes in Copa del Ray action earlier this week. These teams played one of the most entertaining games of the 2017-18 season in their last encounter, with Real Madrid pulling out a 5-3 win.
Betting Trends
Liverpool have dominated Brighton in the head-to-head series, winning all five matches while completing the half-time/full-time double in all five; they've also outscored Saturday's hosts by an 18-3 margin in those encounters. A Liverpool double this weekend is worth a reasonable -120, while a clean sheet for the visitors is set at a slightly lower -125.

Speaking of shutouts, Leicester City fans have seen plenty of them whenever their boys host Southampton, as they will Saturday. Leicester have registered clean sheets in five consecutive home games against Southampton across all competitions, a stretch dating back to 2015. The hosts are +137 to extend that streak to six this weekend.

The over should be a popular play at London Stadium on Saturday as West Home entertain Arsenal. The hosts have surrendered at least two goals in five of their previous six home matches in Premier League play, while Arsenal have gone above the 2.5-goal total in nine of their past 10 games. The standard over is worth -200, while the over-3.5 option is listed at +120.

Everton have struggled to do much of anything in EPL play of late, but that could very well change on Sunday as they welcome struggling Bournemouth to Goodison Park. Bournemouth have been sieve-like on the road, allowing three or more goals in three straight away matches. Everton are -150 to score twice or more, and +225 to convert at least three times.

A multi-goal victory could be in the offing for Atletico Madrid against reeling Levante. Not only have Atletico recorded 15 clean sheets over their previous 21 home matches in La Liga play, but they've also scored two or more goals in seven of their past eight home matches vs. Levante. A two-goal home win is worth +300, while a three-or-more-goal triumph is worth +187.

Low-scoring home draws have become Girona's signature as La Liga's ninth-place team welcomes Deportivo Alaves to Estadi Montilivi on Saturday. Girona have settled for a tie in each of their previous three league home games, with just four total goals scored in those contests. Bettors might want to consider the Draw-Under combo in this one, which carries +250 odds.

The draw should also be under consideration in Saturday's encounter between Villarreal and Getafe. The hosts have settled for a single point in each of their previous three league games, while Getafe have drawn six of their past seven La Liga away encounters – all of them ending 1-1. The straight draw is set at +200, with the Draw-Under play at +250.

Eibar are also on the draw trend with four consecutive ties – but bettors shouldn't expect a fifth, with the 12th-place side installed as a whopping +2,000 longshot Sunday vs. Barcelona. The powerhouse hosts have scored three or more goals in six of their past eight meetings with Eibar; they're -225 to score three or more goals Sunday, and +120 to strike at least four times.
Team News
Veteran striker Manolo Gabbiadini is headed back to Sampdoria on a 10.8-million-Euro transfer from Southampton. Gabbiadini got off to a hot start with the EPL club but wound up falling down the depth chart, prompting the transfer. Sampdoria are seventh in the Serie A table heading into the resumption of play next weekend, but are +4,000 to secure a top-4 berth.

The rich are about to get a lot richer with word that Arsenal stalwart Aaron Ramsey will join Juventus on a five-year contract next season. Ramsey, who has 52 goals in 250 games with the Gunners, had hoped to join the Italian giants sooner, but a deal couldn't be worked out. Juventus are a whopping -1,600 to repeat as Italian League champions at season's end.
GET UP TO THE MINUTE ODDS FOR ALL OF EUROPE'S BIGGEST MATCHES THIS WEEKEND