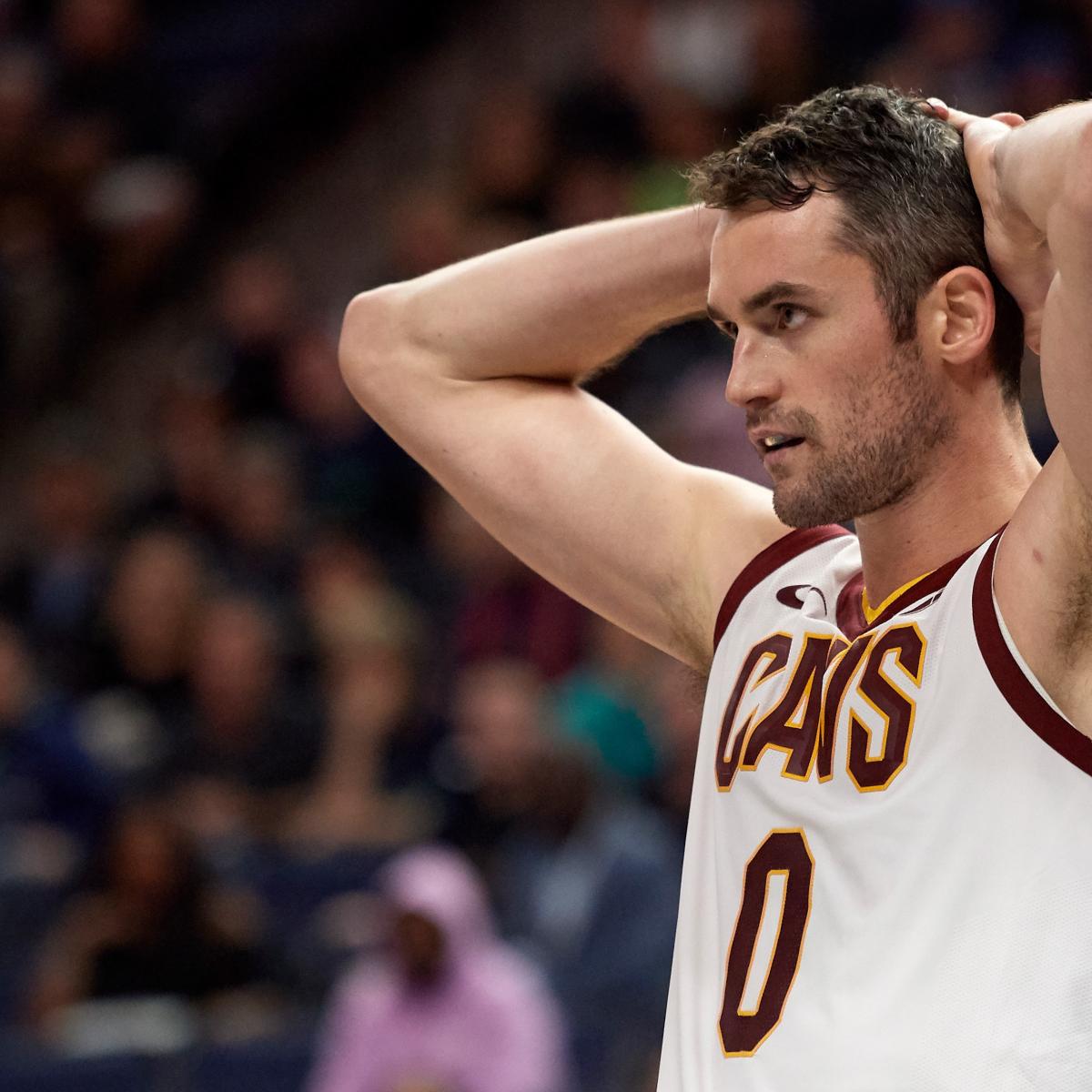 0 of 6
Hannah Foslien/Getty Images

If you're expecting a flurry of activity between now and the Feb. 7 NBA trade deadline, you might want to prepare for a letdown.

Given the large swath of the league still in competition for the playoffs, the lack of stars on the chopping block and the widespread desire to maintain/improve positioning for a free-agency bonanza this summer, big trades might come few and far between. 

But that doesn't mean we're entirely devoid of players who could shake up the playoff puzzle, whether by pushing a fringe squad into lock territory or disrupting the title-chasing hierarchy in an even more substantive manner. 

These six guys, ranging from full-fledged superstars to disappointing commodities in search of new homes, qualify as targets who could change the playoff picture. 
1 of 6
Sarah Stier/Getty Images

Who doesn't love a good three-and-D candidate? 

Kent Bazemore remains without a timetable to return from an ankle injury suffered in late January, per Chris Vivlamore of the Atlanta Journal-Constitution, but that shouldn't take away from his intriguing fit on virtually any contending squad. And even though the numbers haven't been great during his age-29 season, he remains an intriguing, low-risk investment. 

Granted, Bazemore will likely pick up a $19.3 million option for 2019-20. Though that's purely speculation, he'd be foolish to turn down so much guaranteed cash as he enters his 30s after failing to make much of an impression for the lowly Atlanta Hawks. And while that prevents him from functioning as an expiring contract, it doesn't keep him from offering upside on both ends of the floor. 

We're only one year removed from Bazemore knocking down 39.4 percent of his deep attempts while taking 4.2 per game and posting a 1.1 defensive box plus/minus—a trio of numbers matched by only Trevor Ariza, Danny Green (four times), Jason Kidd and Chris Paul during the last decade. He hasn't shown any defensive regression in the follow-up effort (injury notwithstanding), and that enduring skill allows him to survive any slippage from downtown. 

As Marc Stein revealed for the New York Times in December, Bazemore is "generating interest from contending teams that covet a versatile swingman. … In this marketplace, he's regarded as a difference-maker."
2 of 6
David Berding/Getty Images

Anthony Davis probably isn't getting traded away from the New Orleans Pelicans. 

Not only do the bayou residents have every reason to retain his services as long as possible, daring him to leave in free agency by spurning a super-max contract, but they're actually in the midst of a season that's flying well under the radar. Even as their 20-23 record leaves them tied with the Dallas Mavericks for the 12th seed in the Western Conference, their 2.1 net rating registers as a top-10 mark—indicative of unluckiness and an upcoming ascension of the standings as their numbers normalize.

But we'd still be remiss to leave Davis out of this article's purview, given the perpetual speculation that an asset-rich organization such as the Boston Celtics or Los Angeles Lakers could offer New Orleans the motherlode for his services. Even if there's a meager 1 percent chance of him changing uniforms during the 2018-19 campaign, the sheer impact of his transition would create far-reaching waves for years to come, thereby forcing his inclusion. 

Imagine if he ended up running alongside Jayson Tatum and feasting on a wide-open Eastern Conference. Think of the nightmares the Golden State Warriors might have if they had to worry about a Davis-LeBron James tandem wearing purple and gold come playoff time. These are unlikely scenarios.

But it's not like we need to spend much time justifying the impact this top-five player could have in a new location that surrounded him with complementary talents. Even while leading the Pelicans to a losing record, he already sits at No. 3 on Basketball-Reference.com's NBA MVP Award Tracker, which gives him a 10.8 percent chance of taking home the league's preeminent individual award. 
3 of 6
Jason Miller/Getty Images

It's easy to forget just how dominant Kevin Love can be. 

He took a back seat to LeBron James in recent seasons with the Cleveland Cavaliers, and he's thus far failed to capitalize upon his opportunity to lead a young, talent-barren roster during the 2018-19 season. After all, the 30-year-old big man hasn't logged a minute since Oct. 24 while rehabbing a toe injury that required surgery.

Love only registered four appearances before going under the knife, averaging 19.0 points, 13.5 rebounds, 3.5 assists, 0.3 steals and 0.3 blocks while slashing a miserable 32.3/29.2/81.8. But does anyone really think he's declined in such drastic and expeditious fashion? 

During the 2017-18 season, Love produced 17.6 points, 9.3 rebounds, 1.7 assists, 0.7 steals and 0.4 blocks per game with a 45.8/41.5/88.0 slash line. He was significantly better at finding nylon from all over the floor, excelling as a stretch big and adding a different dynamic to the Cleveland attack whether operating alongside James (1.6 net rating, per PBPStats.com) or without the now-departed superstar (1.2 net rating). ESPN.com's real plus/minus gave him a score of 3.46 that ranked 27th. 

No wonder he's still a coveted commodity, as Sam Amico recently reported for AmicoHoops.net:

"Cavaliers general manager Koby Altman isn't yet entertaining offers for All-Star power forward Kevin Love, but Altman can expect the phone to start ringing soon. According to several Amico Hoops sources, both the Charlotte Hornets and Dallas Mavericks have a fairly strong interest."

A Luka Doncic-Love pick-and-pop combination would be devastating. Ditto for a Kemba Walker-Love tandem. But Love's sharpshooting ability as a modern-day 4 (or 5 in small-ball lineups) would invariably play well in any location, so long as the team can also account for his defensive deficiencies. 
4 of 6
Dylan Buell/Getty Images

If this isn't the bottommost point of Jabari Parker's basketball career, the true nadir will come with a squad outside the NBA. After all, he's quickly gone from signing a two-year, $40 million deal with a team option for the second season to completely falling out of the Chicago Bulls' rotation and rarely earning run for (arguably) the league's most inept squad.

Parker's defense has always been problematic. That hasn't changed in the Windy City, which shouldn't be particularly surprising when he admitted he didn't plan to focus much on the preventing end during an offseason interview with the Bernstein and McKnight Show on 670 The Score. As he explicitly said, "They don't pay players to play defense."


But the Bulls haven't been playing him to play offense, either. 

Parker is averaging 14.7 points, 6.8 rebounds and 2.2 assists in 31 appearances for Chicago, but those numbers come while he's shooting 45.2 percent from the field, 29.5 percent from downtown and 72.4 percent from the stripe. Among the 82 men posting at least 14 points per game in 2018-19, only seven have inferior true shooting percentages. 

All that said, Parker still has talent lying dormant. He's an explosive athlete with distance-shooting skill and a knack for finishing plays on the interior—traits that might re-emerge if he lands in a situation conducive to his playing style—one that doesn't ask him to become something he's not.

The Utah Jazz, who had mid-December interest in his services, per The Ringer's Kevin O'Connor, might be one such location, given their enduring need for an offensive punch to supplement Donovan Mitchell's high-scoring habits. They're one of the few squads that could absorb his offensive acumen while mitigating his defensive porosity—something that could also be true of an organization like the Indiana Pacers or Oklahoma City Thunder, though neither has popped out of the rumor mill to express a desire for a Parker addition. 

5 of 6
Fernando Medina/Getty Images

Even if Terrence Ross never quite justified the No. 8 pick spent on his services during the 2012 NBA draft, he's still developed into a useful role player who'd blend in seamlessly on plenty of contending outfits. That's what happens when you keep working on your three-point jumper, developing it into a reliable weapon that can still be supplemented with athletic cuts to the basket and turnover-averse offensive play.

Many snipers excel at minimizing their cough-ups, but few prove capable of thriving in both areas to this extreme. Ross is shooting 38.8 percent from downtown while lofting 5.8 treys per game, and he's turning the ball over on just 7.8 percent of his possessions—the second-best mark in a career filled with minimized mistakes. 

Throughout all of NBA history, only the following qualified snipers have matched or bettered all three of those figures: 
Ryan Anderson (2011-12 and 2016-17)
Harrison Barnes (2018-19)
Raja Bell (2006-07 and 2007-08)
Wayne Ellington (2017-18)
Jason Richardson (2010-11)
J.R. Smith (2015-16)
Peja Stojakovic (2007-08)
Nick Young (2016-17)
Young is the lone man on that list who didn't suit up for a postseason squad during the year in question, though Richardson required a trade from the Phoenix Suns to the Orlando Magic in order to play past Game 82. This player archetype—self-aware and useful in a coveted area—tends to mesh well with winning organizations. 
No wonder the Los Angeles Lakers (per Sean Deveney of Sporting News) and New Orleans Pelicans (again per Deveney) have already been linked with Ross, who would also make sense for the Oklahoma City Thunder, a team in need of more marksmanship. 
6 of 6
Gene Sweeney Jr./Getty Images

"When you remember, though, that simply getting to the postseason isn't a guarantee for his most logical suitors, you could see why a team would pony up to pry [Nikola] Vucevic out of Orlando," D.J. Foster wrote for The Ringer while singling out the San Antonio Spurs, Sacramento Kings, Los Angeles Clippers and Los Angeles Lakers as potential suitors for the big man's services. "After all, you need arms to win an arms race, and there might not be a bigger or better player available at the trade deadline than Vucevic."

As Foster explained in detail, Vucevic isn't a perfect target. Even if, in a vacuum, he may be the best player potentially on the move this February (non-Anthony Davis division), his status as a back-down big who struggles to play defense on the perimeter makes him a liability against teams contenders must take down en route to a title. 

But he's still pretty damn good. 

Averaging 20.1 points, 11.9 rebounds, 3.8 assists, 1.0 steals and 1.1 blocks for the middling Magic while slashing 52.6/38.0/76.7, Vucevic has done enough to sit at No. 7 in NBA Math's total points added and No. 8 in ESPN.com's RPM Wins. That's not too shabby for the 28-year-old breakout center, who's continuing to expand his offensive arsenal and look the part of a palatable paint presence on the preventing end. 

Vucevic probably won't be the final piece helping a lower-tier contender surpass the Golden State Warriors. He could, however, push a squad out of the mediocrity morass and into the first round of the postseason tournament, which is a significant result in and of itself. 

      

Adam Fromal covers the NBA for Bleacher Report. Follow him on Twitter, @fromal09.

Unless otherwise indicated, all stats accurate heading into games Jan. 14 and courtesy of Basketball Reference, NBA.com, PBPStats.com, NBA Math or ESPN.com.