Victor Mete is approaching a milestone in the NHL with the Montreal Canadiens, but fans are still waiting to see the young defenceman score his first goal.
It's still surprising when you take a look at Victor Mete's profile and remember he was a fourth-round pick for the Montreal Canadiens nearly three years ago. The 20-year-old has come a long way since then rounding out his game to improve defensively becoming a reliable option at either end.
He stood out at the Rookie Tournament last year and training camp to earn some confidence from the coaching staff and make the team. Fast forward the clock and Mete is now 17 games from playing his 100th in the NHL. With those games come memories of top-pair assignments with Shea Weber, times of adversity slotting in on the bottom pair, and even a demotion to the Laval Rocket. But still no goals.
Mete has 6 assists in 34 games this season and a total of 13 in his career. The Woodbridge native wasn't necessarily a destroyer of worlds in the OHL, but he did put up some decent numbers:
14/15 – 7 goals and 16 assists in 23 games
15/16 – 8 goals and 30 assists in 38 games (draft year)
16/17 – 15 goals and 29 assists in 50 games
Watching Mete fight to get that first has been frustrating this season. Not because he's missing wide-open nets or fanning on shots as he's getting completely robbed by the opposition. His two-on-one during the St. Louis game was a prime example of that.
Mete, and Max Domi charged to the other end of the ice after Carey Price made some stops on the Blues. It's a two-on-one situation, and Domi got the puck over to Mete cross-crease forcing Jordan Binnington to make an unbelievable save. That's a textbook play for a goal in most situations, but the goaltender made the stop.
What's reassuring though is Mete is doing more to put himself in positions to score. He's jumping up into the play a lot more as well as getting a higher degree of shots on net. In 15 fewer games, Mete is fairly close to surpassing his totals in shots, individual scoring chances, and individual high-danger chances.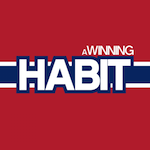 Want your voice heard? Join the A Winning Habit team!
The latter stat is key. Mete had six all of last season while he currently has five. That's what is going to get him his first NHL goal; the young defenceman only needs to stick with it and acknowledge that what he's doing is getting him closer and closer to his first.