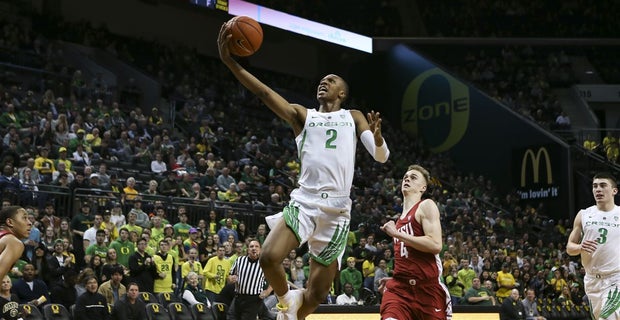 In the eyes of one national college basketball media member, the Oregon Ducks men's basketball team suffered two of the worst NBA Draft decisions this offseason.
Oregon head basketball coach Dana Altman's stance with the NBA Draft has always been a simple one. More or less he will say a line that includes him wanting what's best for the player and the player's family, and if they feel like the NBA is the next stop he'll support it. But for The Sporting News' Mike Decourcy, two Oregon players made really bad decisions to go to the NBA Draft.
87 underclassmen are expected to be draft eligible for the 2019 NBA Draft at the end of June, and Decourcy says Louis King and Kenny Wooten are included in his list of seven players who made the wrong decision.
Decourcy believes Louis King's decision to stay in the draft is the one choice out of all the players who considered the NBA Draft that makes the least sense.
"King is a legit talent, someone whose skill, height and length could make him a dominant college player as a sophomore," said Decourcy. "And he's playing for one of the great college coaches, someone who'll put him in position to excel.
"Even in a balky freshman season, King averaged 13.5 points and 5.5 rebounds and shot 38.6 percent from 3-point range. Anyone who tells you a player can't improve his draft position by excelling as a sophomore or junior is lying; Ja Morant, De'Andre Hunter, Jared Culver and PJ Washington all are likely lottery picks."
King is currently projected to be selected in the early part of the second round of the NBA Draft, according to multiple NBA Mock Drafts.
Kenny Wooten's decision to stay in the draft was a bigger surprise than King's decision, and Decourcy didn't like it either. He compared Wooten to former Duck and current Golden State Warrior Jordan Bell and how they are not statistically the same player based on college results.
"Bell played 105 games at Oregon and averaged 10.9 points and 8.8 rebounds for a Final Four team in 2017," said Decourcy.
"Wooten played 70 games and, in 2018-19, averaged 6.3 points and 4.8 rebounds for a Sweet 16 team.
"Those two lines are not comparable."
What's done is done and now the Oregon Ducks will look to revamp their roster once again and get back to the NCAA Tournament for the seventh time in eight years.