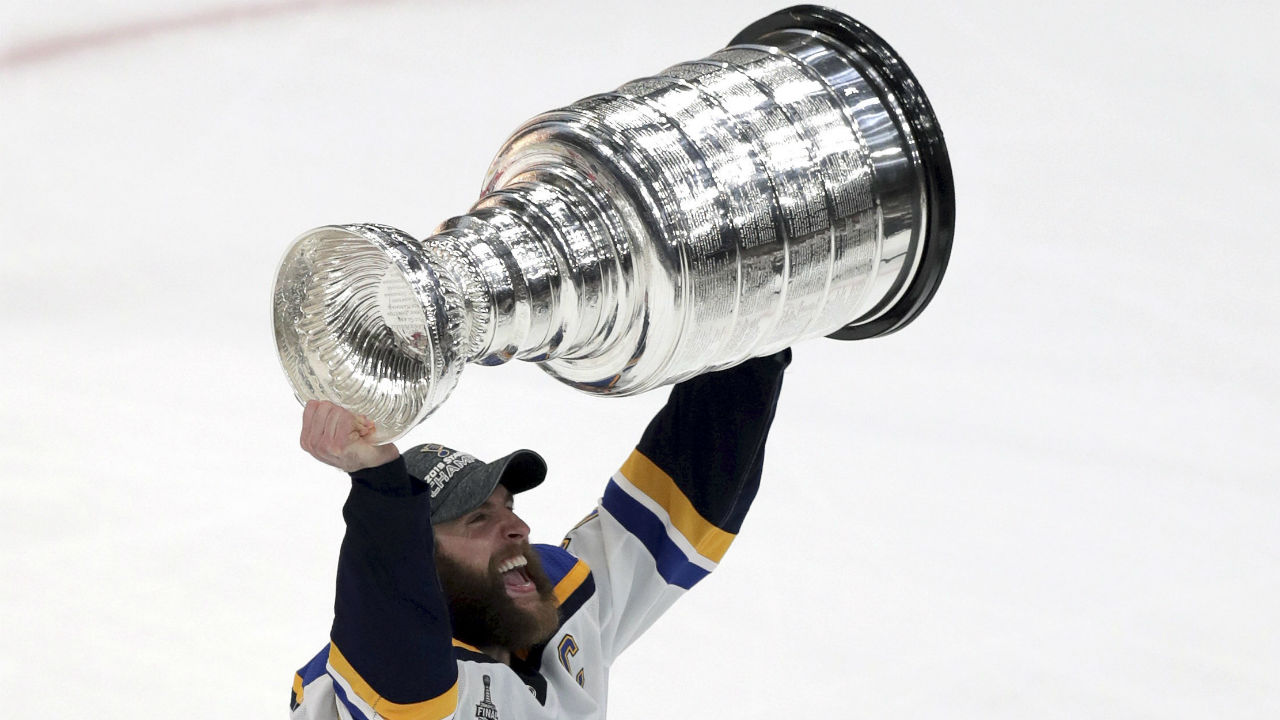 BOSTON — The St. Louis Blues were down and nearly out. At risk of having to change course, rip the roster apart and try to start remaking themselves in someone else's vision.
Then they authored a comeback a half-century in the making, a worst-to-first reversal unlike anything ever seen before in NHL history.
Play Gloria!
Sing it loud and say it proud: Against all odds, the Blues are Stanley Cup champions.
"It's so tough to win. Like it is so hard, and there's so many ups and downs," said centre Ryan O'Reilly, who had a monster final with five goals and four assists. "The big thing for us is how we hung in there and kept fighting and stayed kind of even-keeled that whole time. You can't get too emotional and you have to trust the team you built."
This will be their legacy.
These Blues will walk together forever after parading Lord Stanley's mug around TD Garden on Wednesday night, capping a turbulent season with one final surprising bounce back: A 4-1 win on the road in Game 7 following their missed opportunity at home in Game 6 with more than 100,000 people gathered outside Enterprise Center.
Patrick Maroon, a St. Louis native, called it a perfect chance to "go out there and … beat the odds."
The Blues slowly squeezed the life out of the game after watching Jordan Binnington quell an avalanche of Boston chances in the first period before O'Reilly and Alex Pietrangelo each struck before the intermission. Brayden Schenn iced it by scoring moments after Binnington absolutely robbed Joakim Nordstrom with less than 10 minutes to play, removing the stress for a structured Blues team that grinded out a win in their 108th game of the season.
It just happened to be the biggest victory in Blues history.
No franchise had ever waited longer than the 52 years it took them to win the Cup — seven longer than Los Angeles needed before its first championship in 2012.
"You can see how the city's depraved of one," said O'Reilly.
That it came in this most unlikely of ways, at the end of a year where St. Louis was in last place on Jan. 3, is a testament to staying the course. There was a coaching change on Nov. 19, but management resisted the temptation to start unloading foundational pieces.
Doug Armstrong bought his players time to find the best version of themselves. Time to become an organized, conscientious, heavy band of brothers that couldn't be contained along the walls or on the forecheck.
"That's just the way we're built and I think that's one of the things we really focused on, starting in probably December," said Craig Berube, still technically the 'interim coach' of these champions. "Being that heavy team, being a hard team to play against. Really defensively [reliable] and grinding teams down.
"We really grasped playing that way and became really good at it."
They reeled off three victories in the last four games after falling behind Boston 2-1 in the Cup Final, mounting a comeback similar to the one they had against San Jose in a Western Conference Final that saw a Sharks overtime goal stand despite a missed hand pass. They survived a nail-biting, double-overtime Game 7 against Dallas — not to mention a 3-2 series deficit in the second round — and rallied to beat Winnipeg with a three-goal third period at Bell MTS Place in Game 5 of a tied opening round series.
Too many close calls to count.
There is typically a rush to distill the makeup of the champion each June into a few simple "how-to" steps that can be applied elsewhere, but the Blues didn't uncover some magical formula to success along the way as much as they found ways to make incremental improvements internally.
One of the first things Berube did after taking over for Mike Yeo was tear down the NHL standings board in the dressing room. He wanted to keep the focus entirely within their own walls and saw that approach yield results.
St. Louis started its climb out of the NHL basement in January and reeled off 11-straight wins after the all-star break, removing any questions about whether they'd be sellers at the trade deadline.
That eased concerns among a veteran-laden group with an average age of nearly 28 — a group of greybeards in a league growing ever younger.
"The struggles with our team kind of compounded things, where I think there was a lot of guys who weren't sure if they were going to make it," said defenceman Jay Bouwmeester, who endured the first four healthy scratches of his 16-year NHL career and was a candidate for waivers early in the season but played more than 25 minutes in Game 7. "Realistically, if we hadn't turned it around in January, then gone on that big streak before the trade deadline, there might have been some more action."
"We never lost belief in this room. We just kept on pushing," said Pietrangelo, the captain. "We believe that we had it in here and we kept all the noise outside."
They didn't exactly adhere to convention while reaching the NHL summit.
They did it without making a top-10 draft pick in over a decade — a stretch dating all the way back to when Pietrangelo was taken fourth in 2008. They did it after trading the only No. 1 overall selection in franchise history — Erik Johnson — and then trading Kevin Shattenkirk, the centre-piece they got back in the Johnson deal.
They did it without having a point-per-game scorer in either the regular season or post-season.
They did it with a 25-year-old rookie goaltender in Binnington, who was fourth on the organizational depth chart as recently as last season and became the first rookie goalie to win 16 playoff games in one spring, surpassing the esteemed group at 15: Patrick Roy (1986), Ron Hextall (1987), Cam Ward (2006) and Matt Murray (2016). Eight of Binnington's wins came immediately after a loss — matching another league record.
They did it because they were a team, and by becoming the first team since the 2006 Carolina Hurricanes to hoist the Cup after missing the playoffs in their previous season.
Armstrong has been at this job an awfully long time — 11 years of patiently building and refining the Blues. He acquired O'Reilly in a lopsided trade with Buffalo last July 1, and signed support pieces Tyler Bozak, David Perron and Maroon as free agents, but was forced to consider further changes when St. Louis sat 15-18-4 after a loss on New Year's Eve.
No previous Stanley Cup champion had ever been in last place that late into the season.
The general manager took a scouting trip to Russia soon after with the thought that he might become a trade deadline seller and finally be picking high in the entry draft again, but the Blues ripped off wins over Tampa and both ends of a home-and-home with Nashville while he was away.
"We got to January and we had some meetings [where we said] that we believe in this group, we think it can get it done," said Armstrong. "But it has to. It has to happen or else you get to February and you have to make hard decisions that you don't want to make.
"Thankfully we never got to that part in February."
They ran their own race, played their own song and found the perfect pitch.
They embraced "Gloria" and became glorious after an impossibly long wait.