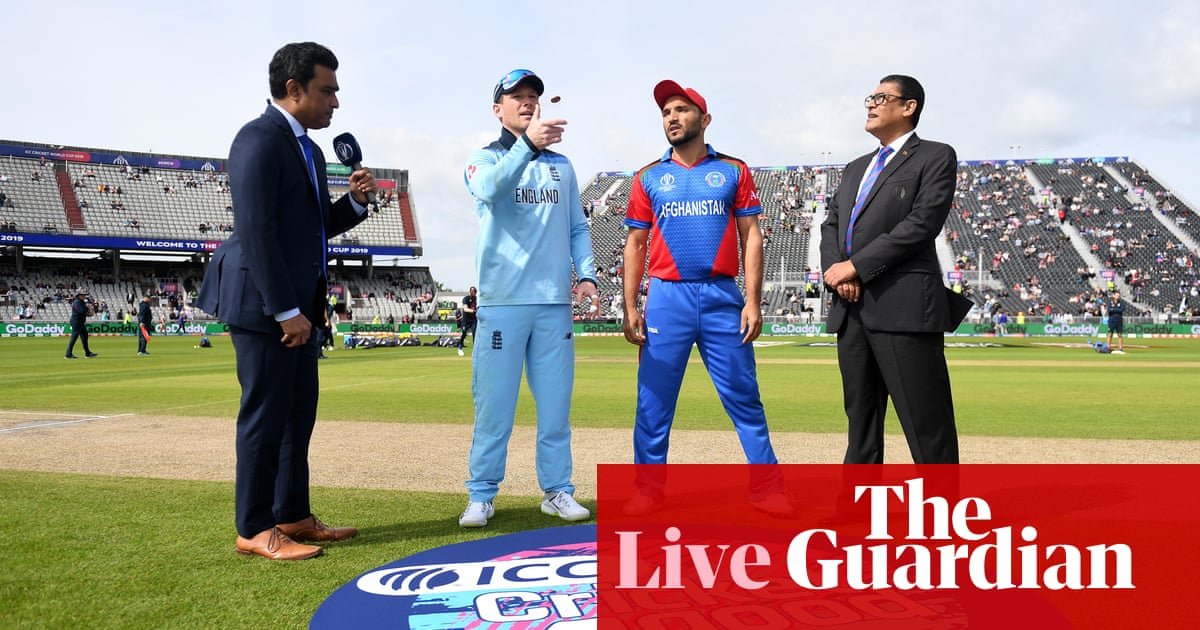 Teams
England 1 Jonny Bairstow, 2 James Vince, 2 Joe Root, 4 Eoin Morgan (capt), 5 Ben Stokes, 6 Jos Buttler (wkt), 7 Moeen Ali, 8 Chris Woakes, 9 Adil Rashid, 10 Jofra Archer, 11 Mark Wood.
Afghanistan 1 Noor Ali, 2 Gulbadin (capt), 3 Rahmat Shah, 4 Hashmatullah, 5 Asghar Afghan, 6 Mohammad Nabi, 7 Najibullah, 8 Ikram Alikhil (wkt), 9 Rashid Khan, 10 Dawlat Zadran, 11 Mujeeb ur Rahman.
Jason Roy has been talking to Sky about his hamstring. "Minimum ten days," he says. Once he trots back to the dressing-room, Nasser Hussain points out that England haven't said what grade it is, which makes him suspicious that it's a grade-two, "and that's usually two to four weeks".
An email! From Ross Hall in Trafford, Manchester, of all places. "Love the fact," says Ross, "you're counting Root as a spinner now!" Yes, perhaps flattering him a little. Should I have said two and a half spinners?
England changes: Moeen and Vince come in
It's Vince for Roy, as expected, and Moeen comes in for Liam Plunkett, who has had stomach trouble. So England have four seamers (Woakes, Archer, Wood, Stokes) and three spinners (Rashid, Moeen, Root).
Updated

Toss: England bat first
Eoin Morgan is fit to flip a coin. He wins the toss and chooses to bat first, for once in his life.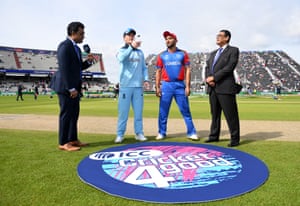 Updated

Preamble
Morning everyone and welcome to the 24th match in a World Cup group stage that is like Celine Dion's heart: it will go on. Today England face Afghanistan for the first time ever (warm-ups aside) on English soil. It's a meeting that promises more geopolitical intrigue than competitiveness – although, after Bangladesh's thrilling demolition of the West Indian quicks, reversals are back in vogue.
Old Trafford may have ends named after seam and swing bowlers, but it offers just what the spinner ordered – bounce and turn. On Sunday, on the same strip that will be used today, Kuldeep Yadav of India produced a near-wonderball to bamboozle Babar Azam of Pakistan. Afghanistan, with the excellent Rashid Khan leading a pack of twirlers, could bowl 40 overs of spin, and England's big-hitters are quite capable of being bewildered by it. Jos Buttler, a superstar against most bowling, has faced ten balls from Rashid Khan in T20 cricket, made four runs and been out four times.
England are hot favourites but they have injuries to deal with. Jason Roy is out with a damaged hamstring, presumably to be replaced by James Vince, the well-known cameo artist. Eoin Morgan is a doubt after his back spasms, though personally I'd pick him even if he was on crutches, just to have his canny brain and icy nerve out there. But Morgan himself may take a different view and his place could go to Moeen Ali, which would relegate Joe Root, who took two wickets the other day, to the eighth bowling option. And there may well be an outing for one or both of the forgotten men, Tom Curran and Liam Dawson. We will know more after the toss, in about 25 minutes; play starts half an hour after that, at 10.30am BST. The weather, by recent English standards, is positively balmy: just a 10pc chance of rain.
Updated