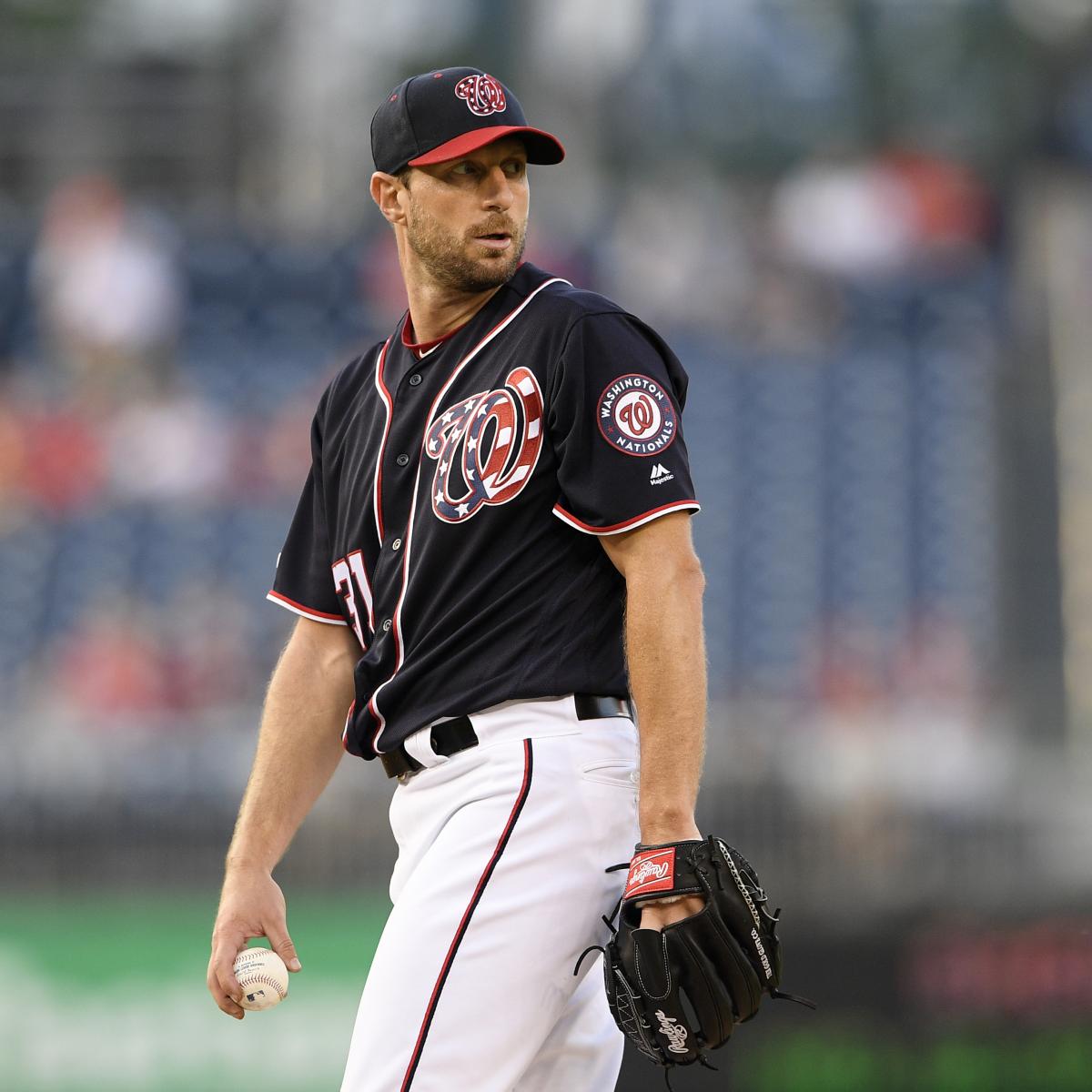 0 of 10
Anyone want to trade for a three-time Cy Young Award winner?Nick Wass/Associated Press

It's a safe guess Major League Baseball megastars such as Mike Trout, Christian Yelich, Cody Bellinger and Alex Bregman won't be available ahead of the July 31 trade deadline.

There are otherwise plenty of stars who will be—and quite a few unexpected ones who just might be.

Our focus here is on the latter group. We've rounded up 10 stars who wouldn't seem to be obvious trade candidates, yet whose names are nonetheless popping up in rumors and speculation. Surprising though this may be, we've discussed why it makes sense for each player.

We'll go roughly in order from least shocking name to most shocking name.
1 of 10
Trey ManciniTommy Gilligan/Associated Press

The Baltimore Orioles don't need to trade Trey Mancini. 

In putting up a .936 OPS and 36 extra-base hits, the 27-year-old has thus far been a bright spot on a club that's on track for a second straight season of 110-plus losses. He's also under club control through 2022.

But when Orioles general manager Mike Elias was asked point-blank about the possibility of trading Mancini, he didn't shut the door on the idea.

"We're not looking to part with Trey. That said, as I've said all along, we're open to anything," he said, per Roch Kubatko of MASNSports.com.

Because they're only about a year into a full-on rebuild, the Orioles must be open to anything. The idea in the short-term is to cultivate an elite farm system, and the one they have right now only ranks as the No. 13 system in MLB.

A trade of Mancini would potentially do more for the Orioles' farm system than a trade of anyone else on their major league roster. They'll have to seriously consider any offers that come along.
2 of 10
Whit MerrifieldCarlos Osorio/Associated Press

Whit Merrifield has been a regular in trade rumors over the last several years, but the Kansas City Royals have generally been adamant about keeping him.

"We've pretty much made it clear we want Whit Merrifield to be part of our team," general manager Dayton Moore said last December, per Jeffrey Flanagan of MLB.com. He later put his money where his mouth is by signing Merrifield to a four-year extension in January.

Yet the Royals may be softening their stance. According to Mark Feinsand of MLB.com, they've indicated to potential trading partners that only shortstop Adalberto Mondesi and third baseman Hunter Dozier are truly off-limits.

Evidently, the Royals understand they have a long way to go with their rebuild. They're on track for a second straight season of more than 100 losses. Meanwhile, their farm system checks in at No. 19 in MLB.

Since he's already on the wrong side of 30, Merrifield figures to be past his prime by the time Kansas City's rebuild is finished. In the meantime, his trade value is boosted by more than just his team-friendly contract. His .805 OPS and 11.1 wins above replacement since 2017 are also factors.
3 of 10
Hunter RenfroeGregory Bull/Associated Press

Unlike the Baltimore Orioles and Kansas City Royals, the San Diego Padres are closer to the end of their rebuild than they are to the beginning of it.

Despite a recent slide, they're still a semi-respectable 35-37 on the season. Hunter Renfroe has done his part. The 27-year-old slugger is building on a solid 2018 season with a .952 OPS and 23 home runs, plus well-above-average defense in left field and right field.

Yet according to Ken Rosenthal of The Athletic, Renfroe is "quite popular" in trade discussions. Moreover, Kevin Acee of the San Diego Union-Tribune reported the Padres are indeed willing to trade him.

They don't have to, given that Renfroe is under their control through 2022. And since the Padres have baseball's No. 1 farm system in addition to a solid major league roster, they're all but certain to be legitimate contenders before then.

But in light of his .298 career on-base percentage, Renfroe arguably fits the bill of a nice guy to have rather than a long-term building block. They might be able to swap him in a deal that brings back a more crucial puzzle piece.
4 of 10
Kole CalhounSean M. Haffey/Getty Images

The Los Angeles Angels' 35-37 record makes them an afterthought in the American League West, but not so much in a wide-open race for the AL's second wild-card spot.

Although he's no Mike Trout or Shohei Ohtani, Kole Calhoun is having a big hand in keeping the Angels in the race. The 31-year-old right fielder has rebounded from a rough 2018 season with a solid .788 OPS and 14 home runs.

Yet it's not out of the question that the Angels will shop him anyway.

They may not be out of the AL playoff picture, but there's no ignoring that they're no better this year than they were in 2017 or 2018. If they take that as a signal significant changes are needed, well, MLB.com's Mark Feinsand is right that Calhoun would be their best trade chip.

Moreover, the clock may be ticking for the Angels to get something for Calhoun. The longer they hold onto him, the more they risk him falling into another slump like the one that derailed his 2018 season. He's also in the last year of his contract, and whether he's worth his $14 million option for 2020 is already debatable.
5 of 10
Felipe VazquezJoe Sargent/Getty Images

The Pittsburgh Pirates are less than a year removed from going all-out for Chris Archer and Keone Kela at the 2018 trade deadline.

That hasn't worked out so well, as the Pirates have slowly sunk toward the bottom of the National League Central. The only question now may be how far they'll go cutting their losses in trades.

If they fancy a try for a quick turnaround in 2020, they'll only go as far as dealing rentals such as left-hander Francisco Liriano and outfielder Melky Cabrera. If they favor something more drastic, they may make Felipe Vazquez available.

The 27-year-old lefty first emerged as a dominant late-inning reliever back in 2017, and he's better than ever right now. Through 27 appearances, Vazquez boasts a 2.12 ERA and 47 strikeouts over 29.2 innings.

Further adding to Vazquez's trade value is his contract. It's guaranteed through 2021, wherein he'll make only $7.8 million. It also has $10 million club options for 2022 and 2023.

Granted, the Pirates might not put Vazquez on the block. But if they do, one evaluator told ESPN's Buster Olney: "The ask will be big, and they won't move from it."
6 of 10
Starling MarteGene J. Puskar/Associated Press

If not Felipe Vazquez, the Pittsburgh Pirates might pursue a more daring trade of Starling Marte.

Two years ago, the 30-year-old's reputation was broadsided by an 80-game suspension for performance-enhancing drugs. But he kept clean and bounced back in 2018, and he's lately been on a tear with a 1.039 OPS since May 23.

Marte is in the final guaranteed year of his contract, but he's absolutely worth his $11.5 million team option for 2020. Likewise, he'll almost certainly be worth his $12.5 million option for 2021.

But while all this constitutes a pretty good excuse for the Pirates to keep Marte, it also equates to quite a bit of trade value. What's more, the Pirates can sell high on him on a trade market that has many corner outfielders but fewer true center fielders.

In the wake of Andrew McCutchen's torn ACL and Odubel Herrera's arrest for alleged domestic violence, Marte was raised as a possibility for the Philadelphia Phillies by MLB.com's Jon Paul Morosi and R.J. Anderson of CBS Sports. To pick a couple more out of a hat, other fits for him include the Colorado Rockies and Los Angeles Dodgers.
7 of 10
Matthew BoydWill Newton/Getty Images

The Detroit Tigers have made pitching a central part of their rebuild, so Matthew Boyd might simply be the first of many aces to come.

The 28-year-old southpaw didn't do much besides eat innings in 2017 and 2018, but he's doing a heck of a lot more than that thus far in 2019. Through 15 starts, he's rocking a 3.35 ERA and 112 strikeouts through only 88.2 innings.

Boyd is under the Tigers' control through 2022. By then, there's a good chance he'll be sharing the rotation with Casey Mize, Matt Manning and other luminaries from Detroit's 11th-ranked system.

Alternatively, the Tigers could sell high on him. And according to Jon Paul Morosi of MLB.com, they may be prepared to do exactly that.

The Tigers probably wouldn't even be thinking about trading Boyd if he were a little younger, but he's at an age at which they can't afford to downplay the possibility that his prime may end as soon as it began. And as good as their system is, it would look a lot better if they swapped him out for an elite hitting prospect.
8 of 10
Noah SyndergaardMarcio Jose Sanchez/Associated Press

The New York Mets going into sell mode just months after new general manager Brodie Van Wagenen promised fans "We will win now" would be a bad look. Yet they just might do it if their playoff prospects are dim enough and the offers they're getting are good enough.

Provided the right hamstring strain that ended his Saturday assignment against the St. Louis Cardinals isn't too serious, the offers for Noah Syndergaard might be especially good.

The flamethrowing right-hander started slow in April, but he's since returned to form with a 3.54 ERA and 3.9 strikeout-to-walk ratio over nine starts. Factor in his club control through 2021 and he's easily New York's most valuable trade chip.

As for where he might go, Joel Sherman of the New York Post speculated about a possible deal to the pitching-needy New York Yankees club on ESPN's Baseball Tonight podcast (h/t Joe Giglio of NJ.com). 

If not the Yankees, a prospect-rich club such as the San Diego Padres could—and perhaps would—offer much more for him.
9 of 10
Max ScherzerDenis Poroy/Getty Images

Despite losing Bryce Harper to free agency over the winter, the Washington Nationals were supposed to extend their run of relevancy in the NL East this season.

In actuality, they're a 32-38 dud whose playoff hopes are pretty much up in smoke. In all likelihood, trades of star third baseman Anthony Rendon, utility man Howie Kendrick and lefty closer Sean Doolittle are inevitable.

Yet speculation (including by MLB.com's Mark Feinsand and The Athletic's Ken Rosenthal) is getting louder that the Nats might go for the nuclear option: trading Max Scherzer.

They don't have to. He was an All-Star and Cy Young Award contender (and winner in 2016 and 2017) in each of the first four seasons of his $210 million contract. It's same ol', same ol' for the 34-year-old righty so far in the fifth, as he has a 2.81 ERA and NL-high 136 strikeouts.

But given his age, it behooves the Nats to wonder about how much longer Scherzer can remain in his prime. In the event skepticism about that combines with a resolve to rebuild for the future, they may indeed open themselves up to getting what they can for him.
10 of 10
Francisco LindorNuccio DiNuzzo/Getty Images

As the Cleveland Indians' deficit to the Minnesota Twins in the AL Central has grown, trades of star pitchers Trevor Bauer and Brad Hand have increasingly been treated like inevitabilities.

But what about Francisco Lindor?

The Indians have indicated they don't plan on extending their superstar shortstop beyond 2021, so perhaps the only surprise is that trade speculation is just now starting up. Notably, ESPN's Buster Olney dipped his toe into those waters on ESPN Cleveland (h/t Aaron Goldhammer) on June 12.

Of course, Olney's thinking is that Lindor, 25, wouldn't be moved until this winter. For that matter, the Indians might not sell anyone while the AL's second wild card is still well within reach.

Yet the Indians have been weakened as key players such as Corey Kluber and Carlos Carrasco have been felled by health woes. As Steve Adams of MLB Trade Rumors covered, they're also looking at a potentially unworkable financial situation in 2020.

If they see no choice but to rebuild, Lindor may indeed be made available. As a three-time All-Star who currently has an .890 OPS and 11 homers to his name, he'd undoubtedly be the top prize on the market.

                    

Stats courtesy of Baseball Reference and FanGraphs.