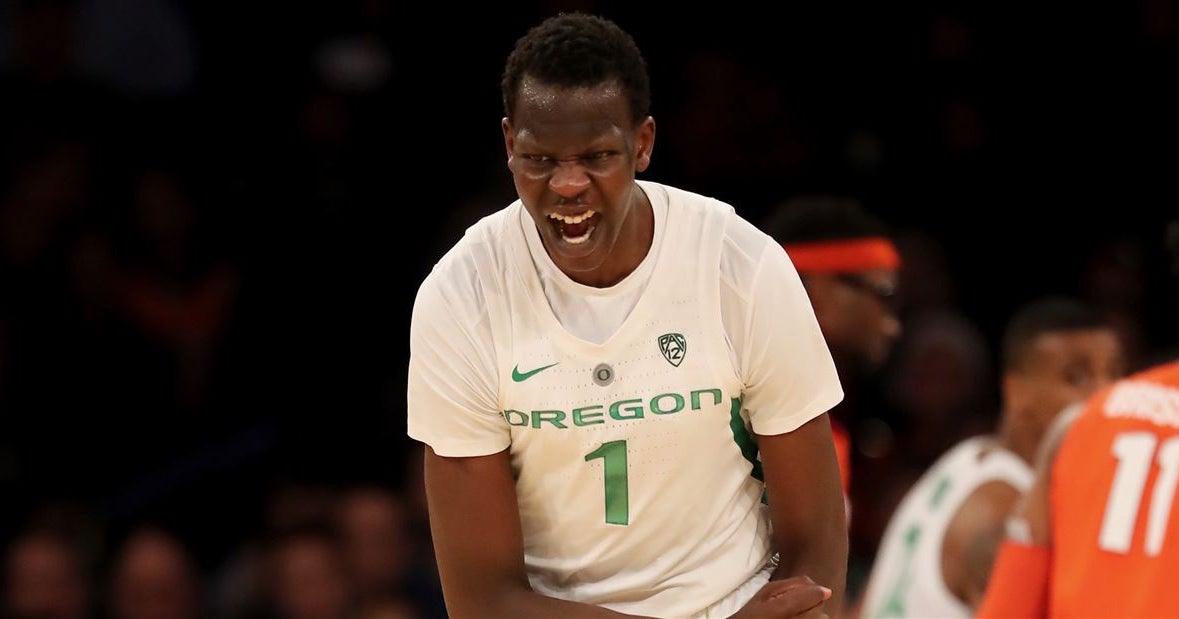 With the NBA Draft just around the corner, the trade mill heating up, and mock drafts flying at you from every angle, it's time to take a different route on what you're reading. Oregon has three former players are generating buzz in the NBA Draft world, each with their own distinct traits, and none of them alike. While it's easy to find out where these three players will be drafted, it's hard to find what team provides each player with the best fit.
Best fit in the NBA can depend on a lot of factors, some include the team's ownership and front office, their coach, play style, teammates, and history. The goal is to take these (and more) variables and find which team best fits the three Oregon prospects, regardless of draft position.
Bol Bol, the highly touted unicorn of a prospect, had an unfulfilling first and only year in Eugene, as the highest rated recruit in Oregon basketball history finished with just nine games under his collegiate belt. However, in those nine games, Bol showcased why he was a transcendent talent coming out of high school. The 7-foot-2, 235-pound center, that featured guard-like traits, while showcasing an array of moves while on the court. Bol is a player we hardly see in modern basketball, as few could find a reasonable NBA comparison to Bol.
Most see Bol comparable to Kristaps Porzingis, the once Knick turned Maverick draws comparisons due to his unmatched height (7-foot-3) and guard-like skills, being able to stretch the floor to well past the three-point line. While there are some similarities to the two, I believe the general game of Bol resembles someone similar to Kevin Durant. Disclaimer, I am not comparing Bol to Kevin Durant, just saying his game resembles Durant's game better than Kristap's game. Where Kristaps and Bol begin to part ways, Durant and Bol begin to converge.
Bol, during his time at Oregon, showcased his ability to bring the ball up the court on command, mostly trying to attack the rim and finish on the other end. Porzingis is more of a half-court anomaly, running off screens and launching threes or stepping into a mid-range jumper like someone who's eight inches shorter. Bol, like Durant, creates his own shot off the dribble in the half-court setting and will get out in transition with or without the ball. Bol has a long way to go, with health and skill, to become a similar player to Durant, but the length, shooting touch, and aggression are there as solid building blocks.
When it comes to which team could fit a Bol Bol like talent, the easy answer would be all 30 teams in the NBA. However, while all teams would like a 7-foot-2 perimeter threat with the same first and last name, only a few teams systems would fall in line for Bol and his offensive profile.
As for those offensively oriented teams, two names ring a bell in the NBA. The Houston Rockets and the Golden State Warriors. However, neither teams play style fit Bol's talents. The Rockets are ball dominant thanks to their superstar James Harden, which means the ball won't see Bol's hands unless he's spotted up in the corner ready to shoot a three. The Warriors? Well, they have too many superstars for any rookie to develop. The team that best fits Bol Bol's set of skills and would give him the best chance to thrive is the Atlanta Hawks.
The Hawks feature a great mix of young controllable talent, a prolific offense, and a future that looks bright. Atlanta's offense runs through pushing the pace and launching three-pointers, something that has become a common trait of basketball in recent years. Atlanta ranked first in the NBA in Pace this year, averaging over 104 possessions during the course of a game. The Hawks also finished top-10 in assist percentage at 62.4%, meaning that over 60% of their made baskets were assisted on, providing easy and open looks. The last major piece to Atlanta's offense is their three-pointers, as they attempted 37 three-pointers a game, converting 13 shots a night, good for third and fourth in the NBA respectively.
The Hawks two centerpieces are rookie sensation PG Trae Young from Oklahoma and second-year PF John Collins out of Wake Forest. Young averaged 19.1 points per game and 8.1 assists per game in his rookie year with the Hawks, building off his incredibly strong freshman season at Oklahoma. Collins, one of the most underrated players in the NBA, had a sensational sophomore year campaign, averaging 19.5 PPG and 9.8 RPG. Collins is primarily a post player and thrives in the pick and roll.
As for Bol and his fit, Bol would be able to help space the floor and provide another offensive threat from the perimeter outside of Young. Young has a knack for finding the open man off the pick and roll but often looks for the lob pass to Collins. In Bol's case, if he learns to perfect the rolling action of the pick and roll, Young now has an athletic 7-foot-2 target crashing to the rim. If the two develop into a real threat, as the defense overcommits to the roll option, Bol has the perimeter touch to run a pick and pop, stepping back to the mid-range area or behind the arc to hit an open shot.
Bol would line up at the center position with Collins at his side, but the two would coexist well on both ends of the floor, as Bol's shooting would allow Collins space to operate on the inside and Bol's backline presence helps the overly aggressive Collins if his defender were able to beat him. Collins is no slouch as a rim protector either, but the Hawks prefer to keep a center lined up next to him at all times. Bol would need to gain strength and weight in the summertime, as well as continuing to get healthy in order to fill this position of need.
Finally, it's time to think about the logistics of Bol falling to his ideal team. Atlanta will feature the 8th and 10th overall pick in the 2019 NBA Draft on Thursday night, and while Bol is arguably the biggest potential reward of the class, he also features some extreme risks. Suffering a foot injury for someone at Bol's size is a major red flag within the NBA industry and something that has caused Bol to fall from a top-five pick to a most likely top-15 pick. I expect Bol to go in the 10-14 range, just at the tail end of the lottery, but the Hawks do feature the 10th overall pick. There is absolutely a chance the Hawks take the flyer on Bol, hoping to become the potential player we had seen in his brief time as a Duck.